If you have your domain with an active blog, and if you are serious about branding your blog then you must have a subscription form to build a better visitor base.
What is the use of such a subscription form?
Some people visit you blog through search engines (or other reference) but due to customer forgetfulness syndrome they forget the visit soon. Subscriptions will allow them to keep a track of your blog posting. This is the first step in building an active blog visitor.
How to enable a subscription form?
Since I have my own server supporting php I decided to use a better subscription application (rather the best of all), phplist.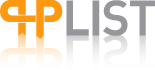 10 great features of phplists are :-
phplist keeps sending messages from your web server, even after you shut down your computer.
No duplicate messages. No 'forgotten' messages. phplist manages message delivery with a message queue, ensuring that every subscriber gets the email message, and that no subscribers receive two copies, even if they're subscribed to more than one list!
Click Tracking tracks links and URLs. Statistics can be viewed by message, URL or subscriber.
Templates are completely customizable, and make site integration a breeze.
RSS feeds can be automatically sent to a mailing list weekly, daily, or monthly.
Batch Processing is useful in shared hosting environments. Set the maximum number of sent messages in a given time period.
Throttling can limit the load on your server so it doesn't overload.
Domain Throttling limits the number of emails to specific domains to keep on the friendly side of their system administrators.
Attachments can be uploaded and included in messages for download.
Open/View Tracking tells you how many users opened your email message. This provides a minimum statistic, as many email clients with privacy or security policies block images (gmail, thunderbird, and others).
No other application will be able to provide such a great integration with your blog. It is very simple to use. You can create a template and modify the pages as per your need.
I do not have php what do I do?
You can use http://www.feedblitz.com/ , there are many such application providers. They surely have some limitations.
Should I make it automated or manual?
In my opinion, keep it manual for the following reasons,
People do not like automated mails as such; they prefer some personal touch to it.
Not all blog post may be of common interest.
With manual mailing you can even send some other information.
If you need some help in installing such a subscription list please let me know I can help. Try subscribing to my blog to get a feel of it (top of the right panel of the page). I am planning to write some real good stuff in the coming days.